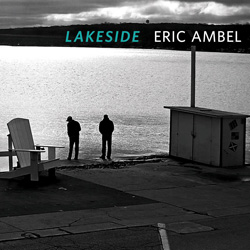 Eric Ambel's new record Lakeside (Lakeside Lounge Records), his first since 2005's Knucklehead, is named for the beloved roots rock locus in New York he co-owned and, in the cover photo, the lakes of Illinois where he grew up. Produced by Jimbo Mathus, who Eric Ambel worked with on his previous two records, Lakeside has Ambel's lead guitar front and center, but also gets his most nuanced vocals to tape. He's never made a bad-sounding record, but this is nonetheless the best he's sounded since 1988's Roscoe's Gang and features a dedication to the producer of that debut, Lou Whitney.
On the core tracks, played by Mathus and Ambel alone and written by Mathus or co-written as a duo, there's a sense of raging fun. "Hey Mr. DJ" and "Don't Make Me Break You Down" are riotous stomps with minimal lyrics caked in fuzz that dissolves and reforms as Ambel pours it all over like paint. Mathus' soulful drumming is surprising enough to keep the listener's attention, but never sacrificies that big '70s groove."Buyback Blues," paints a smoke-stained picture of people trying to find transcendence and, ironically, stave off death on a barstool. Mimicking the slow-motion qualities of happy hour melting away with the fading sunlight giving everything a sweet and transient glow and last call when the false lights go up and the wind blows outside the door, the barbed guitar line and biting solos understand and indict the characters' self-pity.
The duo is augmented by Ambel's long-time drummer Phil Cimino on a few tracks. "Let's Play with Fire" is a sultry slow-jam written by Mathus that works the same soul-country axis as Eddie Hinton and Percy Sledge. It opens and returns to a proposition with a long pause between "yes" and "let's play with fire." Mathus is a strong enough songwriter to know how much goes into that silence, and Ambel trusts the space enough to lean into it. The pick-up line goes mythical as Ambel sings, "Townsfolk will tell stories of us marching on their towns," and his electric guitar arpeggios over Cimino's shuffled rhythm. "Have Mercy," co-written by Ambel and longtime collaborator Charlene McPherson (Spanking Charlene), also plays with a soul tempo. With the character trying to face the life he's made in lines like, "I've been running round town trying to get me unwound," the music echoes that adrift journey. Thick organ floodwaters buffet everything back and forth as Mathus' steady bass and Cimino's stomp let Ambel's fuzz guitar set the raft on fire as it floats.
Lakeside is an instant injection of memory and sensation for anyone who ever held down a barstool at the Lakeside. For everyone else, it's a rocking, soulful record with a love of sunlight, whiskey, and the world that should serve notice to the rest of the Americana field to up their game.