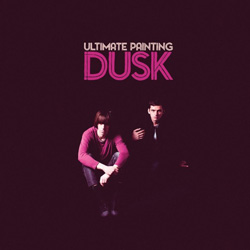 Jack Cooper and James Hoare, the duo comprising Ultimate Painting, call a bustling neighborhood in North London home. It's where they exist, where they record, where they observe the mundane doings on the street and weave it all into a hushed whimsy of guitar melodies and vocal harmonies. Their sophomore album, last year's Green Lanes, asserted that the group could create a record that at once sounds effortless and breezy (with sometimes no breeze at all), but is in reality quite complex, causing the listener to listen hypnotically to the detail and slowly hear it unfold as something profound. Professing a love for Donovan, Ultimate Painting has been pegged as pastoral, but their history lies in noisy London art-punk, with Cooper and Hoare also playing in Mazes and Veronica Falls, respectively. As a result, Dusk (Trouble In Mind Records) has an edge that you can't see. These two in-on-it punks love dusty psych records and sleight of hand, and with Dusk, they turn the chaos of city life, as seen through the window of a silent apartment, into pure sonic beauty.
Dusk retreats into darkness as it progresses, gloaming pink-black, purple-black, and grey hues. The opener, "Bills," is the band at their most propulsive on the album. It's mid-tempo and nearly motorik, but at Lambchop levels of quiet, as if they didn't want to disturb the people in the flat below. The lyrics, though, present a new plateau for young malaise, with despondent angst towards boredom, rent, and forgotten bar tabs. They're simply "chewing you up." From then on, the album is lackadaisical and supine, making it easy to fall asleep staring at the filament in the bulb for divinity. That's not a detriment as each track is a moss-like grower.
"Lead the Way" is an orchestral Spacemen 3 epic in miniature. It's practically whispered, while a glowing Wurlizter, which soon becomes a unobtrusive focal point of the songs, makes its first appearance. The guitars begin to resign, but only enough to give everything room to breathe. "Skippool Creek" is the boys at their narcotic apex; it might as well be in reverse. Throughout, there are echoes of other bands from the recent past who have given soft psych-pop its due like Yo La Tengo, Brightblack Morninglight, and most strikingly similar, the Clientele. It's the last who also took the languid rain and moped-out shadows of London to sublime places out of that element, but maintained that calm pall (or dusk). Ultimate Painting's art requires patience, a little imagination, but with that investment, it's easy to allow them to become your new favorite band.