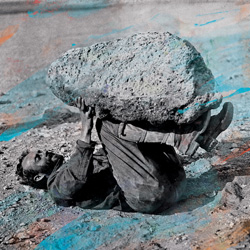 Matthew Barnes' work as Forest Swords is definitely an acquired taste. It's not music you'd ever play at a party, and little of it is pretty or even pleasant. The photo on the cover of his newest, Compassion (Ninja Tune), accurately evokes what it feels like listening to an entire Forest Swords album in one sitting. Barnes' samples are all disquieting, and his arrangements are not at all uplifting. However, there's a lot of emotion here, and at times it's truly affecting, like a sad movie in a dark, lonely city cinema.
The opener, "War It," starts quietly and dramatically, like the opening shot of an epic fight sequence, before a noise like sinister crickets starts the rhythm and a train rumbles in the distant background. Barnes establishes an atmosphere, then deconstructs the pieces into a striking beat. I especially like the third and fourth minutes of the track where almost everything fades away, leaving us with a plaintive, repetitive melody. There are distinct pauses, full stops before all the rhythm returns for the climax. This track is pretty much perfect, and the rest of the album plays out variations on these techniques.
"The Highest Flood" and "Exalter" bring back Barnes' trademark choral cut-ups, harsh edits of group vocals that instantly fill up the tracks with disorienting and discordant sound. On "Border Margin Barrier" and "Sjurvival," Barnes takes his "slow dread" aesthetic to its logical end-point. Almost nothing happens, and yet it's thrilling. He strips away all but the barest elements and in both cases, it's extreme and effective. "Raw Language" and "Arms Out" are the only two tracks that pick up the tempo. They're not exactly fun, but with the rest of the album being pretty slow and following a familiar game plan, these are necessary for a change of pace.
Since his last, excellent LP, Engravings, Barnes has been busy filling out his resume, making movie scores and a very breathy accompaniment for dance (Shrine). Those experiences seem to have persuaded him that his music needs more space. The music on Compassion develops patiently. When it's at its best, that means it effectively builds tension, creating a compelling, evocative environment for his cinematic imagination.