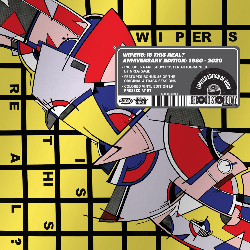 Still several years before it became a hipster utopia worthy of it own sketch comedy TV show, I moved to Portland on a whim from New York City. It only took a year for me to decide that the dreary town just wasn't for me, and I moved back east. Before my departure a work associate gave me a parting gift: a copy of the Wipers' Is This Real? on CD.
Being a regular contributor to The Big Takeover, I was familiar with the name if not the music, as the magazine's publisher, Jack Rabid, was a longtime booster of the band and had printed several interviews with frontman Greg Sage over the years. Still, listening to that CD as I drove back east was a revelation. Released in 1980, here was an album that bristled with every bit of intensity as the more well-known punk albums that preceded it. Yet aside from Jack's ravings, how had I had never heard it mentioned in the same breath? And how was it that the Portland that had left me so unimpressed had birthed something so astonishing?
Considered by many to be the Pacific Northwest's first punk band, the Wipers were formed by singer and guitarist Greg Sage in 1977. They released Is This Real?, their debut album, on the Portland-based Park Avenue label three years later. Since then, the record has intermittently gone in and out of print, with Park Avenue not issuing a repressing until seven years after its initial release. Sub Pop issued the CD that I received as a gift in 1993, but the album didn't get another vinyl pressing until Portland's Jackpot Records put out a new edition remastered by Sage himself in 2006. (Sage had owned a record lathe as a teenager so he was certainly the man for the job.) Jackpot then put out a black vinyl version in 2014.
This past decade has seen the Wipers' profile raised, with bands citing them as an influence and a new generation discovering their records. For Record Store Day and the album's 40th anniversary, Jackpot releases a new limited edition clear vinyl pressing. This version comes with a concert poster reproduction signed by Sage as well as a 7-inch containing four songs from the band's original 4-track recording of the album. (Park Avenue purportedly insisted that the band record in a proper studio.)
But whether on clear or black vinyl or CD, this is an album that demands your attention right from the get-go, with the bone-shaking bass riff that starts "Return of the Rat" coming like a slap in the face. From there it only gets better, with Sage complaining, "You don't care about it," on would-be single "Mystery." The subsequent "Up Front" is a call-to-arms of sorts, Sage playing blistering riffs over a militant drum beat. The first side of the album (the "Pos" side) is also highlighted by the title track, a meshing of sharp-edged riffs and Sage's plaintive caterwaul.
With cuts like "Potential Suicide," the second side may indeed be the "Neg" side, though it"s no worse for it. "Don't Know What I Am" again finds Sage and bassist Dave Koupal playing off one another, Koupal providing a low-end rumble for Sage to sing and riff atop. The record finishes with "Wait a Minute," one of its strongest cuts. Here, Sage takes his own advise when he sings, "Let's get just a little too loud," the track (like much of the record) balancing punk fervor with minor chord melody.
The bonus 7-inch certainly makes this edition worth tracking down even if you already own a previous pressing. Though they may have been done on a 4-track, these recordings hardly lack fidelity (further proof of Sage's engineering prowess). Instead, they merely sound like alternate takes generally more jangly than those that ended up on the album as Sage's guitar is less fuzzy. Indeed, there is a sparseness to the version of "Is This Real?" found here that I almost prefer. Similarly, the four-tracked take on "Mystery" emphasizes Sage's penchant for matching melody with hook.
With so many Record Store Day releases seemingly just new pressings on brightly colored vinyl, this Wipers reissue is something special. Is This Real? is a record that any discerning listener needs in their collection and the extras here (did I mention it has a reflective mirror board jacket?), make this version the one to get.