Leaving Austin without sampling their legendary food-stuffs would have been a crime, so Saturday morning I ventured out to Hut's Hamburgers to have a lunch that didn't consist of cardboard pizza and cheap tacos. Seriously, one of the best burgers in the country. Though some of those taco trucks were incredible as well.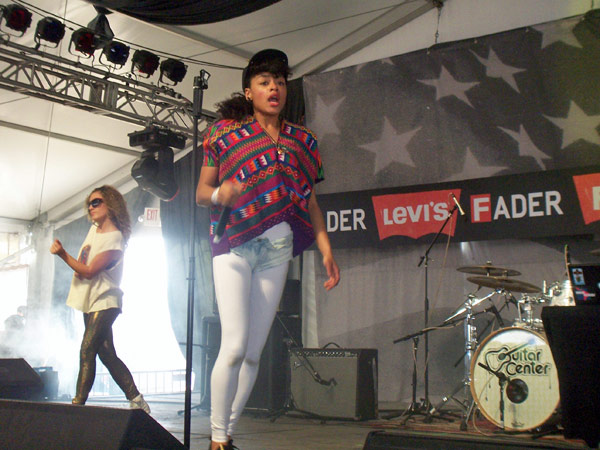 On yet another perfect day, I started blindly by seeing a set by the much beloved Mae Shi. Not beloved by me, but the throng that showed up early to catch them and their take on frenetic synth pop. A bout of technical difficulties proved it's quite a feat to be a West Coast punk band and employ your Macbook at the same time—the bright, colorful loops and junk drawer beats finally coalesced, though, and I found I was won over by the Mae Shi's quirky blend in broad daylight.
Was I planning on seeing Kanye? Well, it was in the cards and I headed down to the Fader Fort early to avoid the inevitable long line. The Fader compound, though, was immense, likely holding a couple thousand, so if you wanted to see Mr. West, you likely got in. I instead was more interested in the Mad Decent cadre that dominated most of the afternoon. Maluca being the biggest surprise. Over the course of the week, the M.I.A. replicate was common, but each separate female emcee/ingenue, held their own. Maluca leans towards the Latin/Caribbean side of booty beat. Flanked by competent dancers, throwing out whistles and manning the cowbell, she made freestyle a genre waiting to be co-opted into modernly spun hot tracks. Not sure when her record drops, but I expect big things.
Unfortunately Popo, Mad Decent's first "rock" signing, cannot catch the same slack given to a band like the Black Lips. Songs about smoking crack matched with stale garage riffs will not pay the bills. A 7-inch is on the way, but please no record.
Fortunately, the real Major Lazer followed them. Switch and Diplo took to the tables, basically giving the audience their first listen to what's expected to be the jam of the summer. From what I could gather the Major Lazer full-length is a wild take on dancehall, filled with A-list guest spots and fortified with the duo's gargantuan beats. Set-up like a authentic Jamaican sound-system, along with their own dancing mummy, again, Diplo did not disappoint. His star continues to shine even brighter.
I decided against Kanye as up the hill, as Ron could attest, Ms. Bea's had the line-up of the weekend with all the must-sees of the Fest going back-to-back-to-back in front of an increasingly swelling crowd.  The tiny Mexican bar was a perfect microcosm of the week's debauchery—here the alleys were filled with dope smoke, hits of whiskey, and plenty of collector scum networking. It was nice to see Kurt Vile, Thee Oh Sees, Eat Skull, Blank Dogs, and best of all another, and likely the most impassioned, set from Psychedelic Horseshit, under the ecological and technical constraints of Bea's backyard. Either on the "stage" or on the "floor," this group of bands validated why something like SXSW exists—to gather them all together under one giant umbrella so that everyone gets a chance to share in the revolution. Sadly sets by Wavves and No Age seemed aesthetically out of place.
Somewhere along the night I was dragged to see white rapper hopeful, Asher Roth, only to head back east after witnessing such dismal hip-hop. Ugh.
My SXSW ended in prophetic fashion standing on the pedestrian bridge over Town Lake, watching the U.S. Girls and Tyvek echo a raucous madness into the night, to a crowd, though tired and weary, still hungry for more.