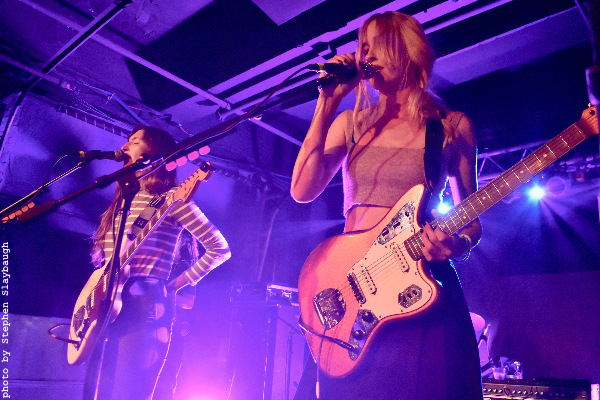 Over the course of nearly 20 years and four albums, LA quartet Warpaint has continuously refined its mix of shimmery shoegaze aesthetics and pop instincts. Last year's Radiate Like This was one of the year's best and revealed the band to still be very much on top of its game after a six-year absence.
That absence seemingly had little effect on being able to sell out Columbus' A&R Music Bar, and Warpaint took the stage to an obviously appreciative crowd. They started slowly with "Stars," a brooding cut from their debut EP, Exquisite Corpse. "Champion," the lead single from Radiate Like This followed, the song gaining intensity with each repeat of its mantra-like chorus, "I'm a Champion." Warpaint's strength comes from the melding of the four members' talents, their voices coalescing and melting in unison while their instruments' emanations weave around one another, and this song embodied that dynamic.
Their setlist pulled from all four full-lengths, but you couldn't necessarily tell. Each song melded into the one before it, sometimes literally, even as guitarists Emily Kokal and Theresa Wayman took turns at lead vocals. After building for half a dozen songs, the set reached the first of several apexes with "Hard to Tell You," another highlight from Radiate Like This. Here Kokal's vocals soared above both the mix of ringing guitar notes and shuffling beats and the din of the crowd, who roared in awe as she hit the high notes. The set remained at this fevered level as Warpaint transitioned to "Love Is to Die" (from their second, self-titled album) and other peaks like "Undertow" (from their first album, The Fool) and the infectious "New Song" (from their third album, Heads Up). They also squeezed in a cover of Fugazi's "I'm So Tired," with bassist Jenny Lee Lindberg taking over vocals, before finishing with the extended groove of "Disco//very."
However, the show wasn't over as Warpaint returned for a three-song encore, which seemed more denouement than climax, especially the acoustic "Send Nudes." Rather than going out on a bang, they ended with "Beetles," a song that slowly dissipates as it comes to a close. It seemed a fitting end, though, as this band's alluring mix of laidback grooves and dusky atmospherics is as much (if not more) about halcyon moments as it is grand crescendos.