I'm not so predisposed to luddism as to tell you that things were better in the days before the internet put a gabillion superbytes of information at our fingertips. But I do miss the sense of mystery that came with the unknown.
When The Feelies suddenly reappeared after going underground six years earlier following the release of Crazy Rhythms—their groundbreaking 1980 debut that combined punk's frenetic energy with the melodic jangle of The Byrds—it seemed to be out of thin air. Most fans of the album were unaware of how Messrs. Mercer and Million had spent the last half dozen years and probably assumed that like so many flashes in the punk pan of the times, it was one and done for the band.
Though Mercer and Million were now joined by a new rhythm section, The Good Earth was no less brilliant, and without Google to answer questions about its creation, it was coated with a thin mystique like some early morning mist. However, by the time Only Life was released two years later, the band had signed with A&M and facts about the band could be more easily gathered if only one knew where to look. That made the album no less magical. It sparkled with same buoyant post-VU jangle, while Mercer delivered existential aphorisms that belied their simplistic motifs.
Indeed, Only Life seemed to be the culmination of everything that made The Feelies great. Plus, there was a sense of restlessness absent from The Good Earth. Crazy Rhythms may have been as animated, but where it rustled with perpetual nervousness, Only Life was going somewhere. "Higher Ground" was as if On the Road had been condensed to a four-minute pop song, while "The Undertow," as its title suggested, was imbued with a gravitational pull. And "For Awhile" was a coming of age tale—not from adolescent to adult, but perhaps adult to grown-up. That the band's superb cover of VU's "What Goes On" seemed like an addendum of sorts speaks to the strength of this record; in short, Only Life is a classic.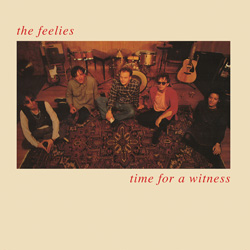 How to follow Only Life was a difficult question, and there may not have a been correct answer. I can remember spending weeks trying to like Time for a Witness as much as I wanted to when it was released in 1991. As was The Feelies' intention when they made it, the album has a "live" feel, with rougher edges and more obvious gusto than its predecessor. And it is not by any means a shabby record, but there's probably a reason it was the last one The Feelies made before going on a much longer hiatus than their first one. It lacks the subtlety of Only Life and The Good Earth, but it makes up for it in many instances with its zeal. "Sooner Or Later" is a jangly barn-burner imbued with Mercer's knack for quick turns of phrase, while "Decide" shows the Television-like guitar interplay between Mercer and Million that has always been there, but usually is less obvious. Listening again, it's better than I probably realized at the time.
With The Feelies now back in action, both of these albums have been given new life by Bar/None Records, who has reissued them on vinyl and CD. The remastering is a vast improvement as they both were released during the dark ages of CD sound. It's especially welcomed in the case of Time for a Witness, as the vinyl version was a rarity. Additionally, each album comes with a download card for four bonus tracks: one acoustic reworking recorded in 2014 and three live cuts from the band's last show at Maxwell's, their regular haunt in Hoboken that changed ownership and focus a few years ago. The new acoustic take on "It's Only Life" stands out, while the live material suffers for the Maxwell sound system. It's no matter, as one needs little additional incentive to pick up these extraordinary albums.