Despite sharing the same label (Matador Records), the pairing of Spoon and Interpol would seem to make for strange bedfellows, let alone a double-bill. The darkened pall of Interpol's moody, urbane emanations contrasts dramatically with the sharp riffs and hook-laden pop smarts of Spoon. At the same time, visually, despite his declared fondness for fitted shirts, it's hard to imagine Spoon frontman Britt Daniel (pictured top) buttoned up in one of his tourmates' black-on-black three-piece suits. Nevertheless, the two bands recently kicked off a nationwide stint together that brought them to Columbus last week.
Spoon, whose latest, Lucifer on the Sofa, is one the strongest records of its career, was the first of the two bands to hit the stage (after fill-in openers Seratones), starting off with the slow build of "The Beast and Dragon, Adored" from its breakthrough fifth album, Gimme Fiction. Surprisingly, it was that album that the band favored and not its latest, with five of its set's 19 songs taken from the record (compared to four from Lucifer), including the one that followed, "The Two Sides of Monsieur Valentine." While the two opening cuts were rendered note-perfect, Daniel and company hit their stride as they segued into the quick-paced "Get Nuffin," with utility player Alex Fischel (pictured below) stepping out from behind his keyboard for some manic bouncing to match his guitar playing. Fischel's animation was emblematic of the buoyant energy of Spoon's performance that never let up.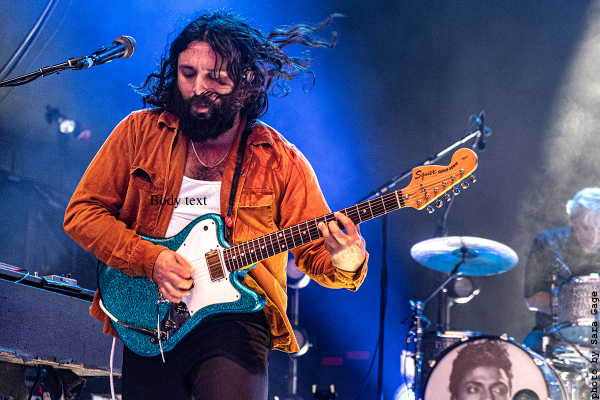 Indeed, over 75 minutes, Spoon affirmed the consistency of its catalog, with each subsequent song they played as good as the one that preceded it and the one that came after. After 30 years of a career that has had its share of ups and downs, Spoon might actually be at the height of its creative power. Following eight songs that also included such other gems as "Do You" and "The Fitted Shirt" from two of the band's finest moments, namely They Want My Soul and Girls Can Tell, respectively, they arrived on the new record with "My Babe," Daniel strumming a glistening acoustic while Larios plucked the song's minor chords on keys and cohort Gerardo Larios knocked out some rough-edged riffs in contrast. It was a moment that made one feel lucky to be there, and it would be easy to gush over several such instances. The band seemed to feel similarly, with Daniel and Fischel frequently venturing to the edge of the stage to get closer to the throng clearly enjoying every second. As the set came to its close, Daniel thanked Columbus, "one of the remaining great rock cities," and asked if the Newport still existed, to which the crowd responded with a roar in the affirmative, of course.
One could have easily left happy after Spoon finished, but there was still Interpol, who first played Columbus while touring for their lauded debut, Turn On the Bright Lights, just a stone's throw away in a building that is now a parking lot. The band took the stage in shadow and would mostly remain that way, with backlighting rendering the black-attired members as silhouettes. As with Spoon, Interpol released a record this year too, The Other Side of Make-Believe. Like its predecessors, it inhabits a sphere of Joy Division–cum-Chameleons post-punk and lyrical semiotics that sometimes favor style over substance. They began with "Toni" from that new record, which built from a sparse piano-led arrangement to a climax of guitar riffage, before moving on to "Evil" (from sophomore album Antics), an obvious crowd favorite that elicited audible excitement and plenty of singing along. Next was another new cut, "Fables," highlighted by the playing of guitarist Daniel Kessler (pictured below), whose footwork as he traipsed around was equally dexterous.
But in contrast to the ebullience of their tourmates' set, Interpol's 90 minutes onstage were more about mood than energy, which veered between intensity and monotony at times. While songs like "Obstacle 1" and "The New" struck a chord for being from Bright Lights—easily one of the essential records of the early '00s—at other times it was easy not to take notice of what song was being played. Interpol certainly isn't a one-note pony, but neither is there an abundance of tricks in its bag. As it was, the show ended without great fanfare or an encore, but it mattered little as everyone seemed more than satiated.