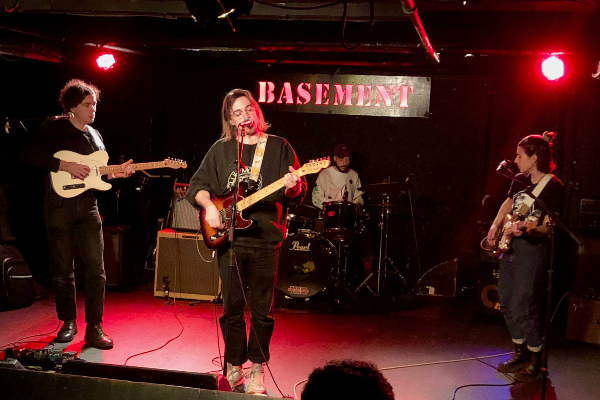 The verdict is still out as to how the Toronto, Canada cheekily named quartet, Duck Ltd. (pictured above), will be remembered a decade from now. After all, what you want is longevity, not just lighting in a bottle. As of this show, the band's sharp and tuneful debut, Modern Fiction, has been out for a full year. They've toured the duration across all points of the globe, opened for luminaries of indie rock, and have racked up enough streams of their indelible hit, "18 Cigarettes," to garner status as the harbingers of a post-pandemic jangle-pop tidal wave.
Seeing them live for a second time this year, they were noticeably exhausted, but nevertheless, exuberant. Perhaps it was the fuse burnt at both ends, the end of a long tour, or perhaps it was a sparse, day-after-Thanksgiving crowd, that gave those vibes. Frontman, Tom McGreevy, was as polite and endearing as ever, and didn't seem phased by any shortcomings the venue or reception could muster. The Ducks breezed through the effortless pop of their debut, the increasing velocity of their set being infectious. They reference the Sarah Records catalog, crafting songs that shuffle lightly, but mostly exhibit a Feelies brand of complex simplicities. Though that may seem a contrary idea, watching guitarist Evan Lewis play with such ease is the highlight of a Ducks Ltd. show. His command of his leads is just mesmerizing, with melodies shooting out like marbles, spinning without gravity in the open air. If one were to watch him without the context of the full band in tow, you'd think he was just noodling into the wind.
Though I had come to the show for my favorite new band of the last year, it was the Madison, Wisconsin quintet Disq that absolutely shattered expectations. It's kind of impossible to sum up what Disq does without the initial contact of seeing them live. They are in essence a grab-bag of indie-rock tropes — without actually adhering to any trope long enough for it to stick. They can sound like five different acts at once. They kicked things off with the first song from their recently released sophomore album, Desperately Imagining Someplace Quiet. "Civilization Four" is unabashedly Blur and Super Furry Animals: loud, noisy, psychedelic pop with little time for nuance, just unabashed sonic blitzing, be it three guitars all set to stun or electronic squiggles and sampled drums swirling in the periphery.
The young band's blessing (and curse) is that there are too many cooks in their kitchen. Founding member Isaac deBroux-Sloane tempers things with mellowed pop like "Prize Contact Life," which eventually evolves into big power-chorded hooks soaked in sticky sincerity. Bandmate Shannon Conner takes a more traditional approach on songs like the incendiary "This Time" and his torch song, "The Curtain." It's grunge by way of Promise Ring and heart-on-sleeve Midwestern longing.  Meanwhile, bassist Raina Bock upsets the entire cart with obtuse ventures in songwriting, like the catchiest song of the night, "Cujo Kiddies," and the weirdo fugue "Hitting the Nail with a BB Gun." She's a band of her own design but fits swimmingly in the awkward brooding of her counterparts. Again, with four distinct songwriters in one singular band, it's difficult to find a suitable groove to follow; you just kind of have to accept and appreciate all of it. It's a maximalism that is taxing, but worthwhile once you figure out how to parse it all apart into digestible earworms. That said, it's also rewarding to swallow it whole. Going home and listening through both of their records made living through their set even more prophetic. I'd say their biggest challenge would be to harness their powers into something more solid, but the jukebox execution might be a sign of the times as well as a watermark for what's to come in our post-post future.