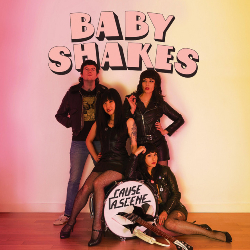 Baby Shakes bring renewed vigor and focus to their spiked-sugar attack with their fourth album, Cause a Scene (Lil' Chewy Records). The title track's burst of aggression belies ease and confidence; they're trying to win the person they're addressing over, but they're not trying that hard. Shimmying bass buoys lines like, "We just do what we want to do," leaving the listener no doubt that could change with the next summer breeze.
Cotton candy harmonies from Mary Blount, Judy Lindsay, and Claudia Gonzalez, along with Ryan McHale's detonating drum fills launch "Wasurenai Wa" into the upper ranks of melancholy summer night slow dances. The chorus, Japanese for "I won't forget," underscores crooned verses about how "this love won't die" with just enough grit in the guitar to remind the listener of the fleeting nature of memory.
"Cruisin'" also features that chromed twist-cone of sweetness and melancholy as Blount warns, "Don't act so dumb, you've got it wrong. I said he's with me." They lace those taunts with hand-claps, doo-wopped backing vocals, a crisp dance-in-the-middle-of-the-circle drum break from McHale, and a Lindsay guitar solo that beams like sunshine through shattering glass.
Fortunately, Baby Shakes don't skimp on the harder-edged side of their work here. Lindsay's whip-crack guitar intro and Gonzalez's bass set the tense, confident tone of "Modern Girl Renegade," while "Games You Play" throbs with a classic glam stomp. Elsewhere, acid bubblegum builds to a steady rise and explosive pay-off in the final track "Let's Go Jet Glo."
Bands have found mixing punk guitars with sweet, soulful harmonies and melodies to be fertile territory since the '60s, but Cause a Scene reminds the world how fresh and satisfying those sounds can still be.